Turning Unknown Developers Into Excited Advocates For Computer Vision
Overview
alwaysAI is an ambitious software startup located in Solana Beach, CA. They've been developing a proprietary, deep-learning computer vision system that they market to other software developers looking to add computer vision functionality into their products.
The product developed by the tech startup was rock solid. The difficulty was they didn't have a system for marketing their new technology.
They knew they had to get the product into developers' hands to start collecting feedback and building interest, but they didn't know where to begin.
They were running up against a wall.
alwaysAI was certain developers would be excited to put the product through its paces once they got a hold of it, but they were too busy developing the product to manage large-scale outreach.
They needed help. They needed results quickly.
Challenge
When you have your nose to the grindstone, churning out code day in and day out you don't get the chance to do much else. That was the position alwaysAI found themselves in.
Because they didn't have the time to engage with their target markets, they were operating mostly on guesswork. They thought they understood who their customers were, but they had no way to verify their assumptions.
As part of our initial research, we interviewed developers and executives from around the industry to develop accurate personas. We quickly learned that many of alwaysAI's assumptions about their target market were not fully correct.
The company also had very little in the way of basic marketing information. Further compounding their problems, they had no real measures for judging the success or failure of a marketing campaign, besides vanity metrics like website sessions. That wasn't granular enough to tell them if they were really making headway with the developers they needed to reach. In a very real sense, they were flying blind.
Solution
We realized early on that our strategy would have to work around the fact that assets didn't exist. We could create those as we went, but the immediate push had to be to introduce the brand and build general awareness. And we needed to get people excited about the product.
We decided on a longer-term strategy that focused on the assets we did have — the company's vision for their future and for the platform itself. We would build a campaign with short term tactics serving as kindling to support the longer-term strategy of building organic interest through deep content development.
Our blueprint process persona research told us that our target developers preferred to vet products for themselves. They didn't trust marketing messages on their own. They needed to see the product in action. They needed to understand how it worked, how it would integrate with their software, and what its capabilities were.
We decided that the best way to reach a target that required such a deep exploration of the product was to create content. A lot of content. And specifically, video content. Video allowed us to present in-depth product information in a visual format that made it easier for developers to appreciate the product's benefits.
We made product demos, real-world use cases, tutorials, technical descriptions, and more. We translated the tutorials into illustrated, step-by-step product guides. We wrote about the product extensively.
We knew that lead generation with these leery developers would only work if we could build a significant amount of trust in alwaysAI and their platform. So we made certain developers had no shortage of informative collateral to whet their appetites.
In publishing this content, we eschewed standard social media sites because our research dictated the target market didn't put much stock in those platforms. Instead, we focused on specialized platforms that cater to developers like Stack Overflow and GitHub, and viable developer communities like those found on Medium.
As we rolled out our content strategy we were simultaneously building all of the other assets we needed to properly convert developers when the time came, including a knowledge base, a thorough pricing page, and backend automation.
It was an all-out, high-quality content blitz intended to cultivate fertile ground for the upcoming beta. And it worked.
2,021%
2,021% Increase in Traffic in 10 Months
20k
20k Average Website Sessions per Month
3,532
3,532 Beta Users Signed Up
Results
Through our efforts, we helped alwaysAI zero in on the developers most likely to be early adopters for the software. We listened to what they wanted and created a massive content campaign to get them informed and excited about the product.
In the end, it all came down to their beta release. They needed a reservoir of primed developers that knew what the software could do for them and were ready to start experimenting with it.
The day came and alwaysAI reported initial installs far in excess of their targets. As the beta went on, it became abundantly clear that the marketing campaign had been a success. People were downloading the software and using it in their prototypes. They were talking about it on developer sites. And most importantly, they were loving the product.
AlwaysAI was thrilled with the results. Their product is starting to enjoy widespread acceptance among developers interested in deep learning computer vision technologies and they credit our campaign with laying the groundwork for their success.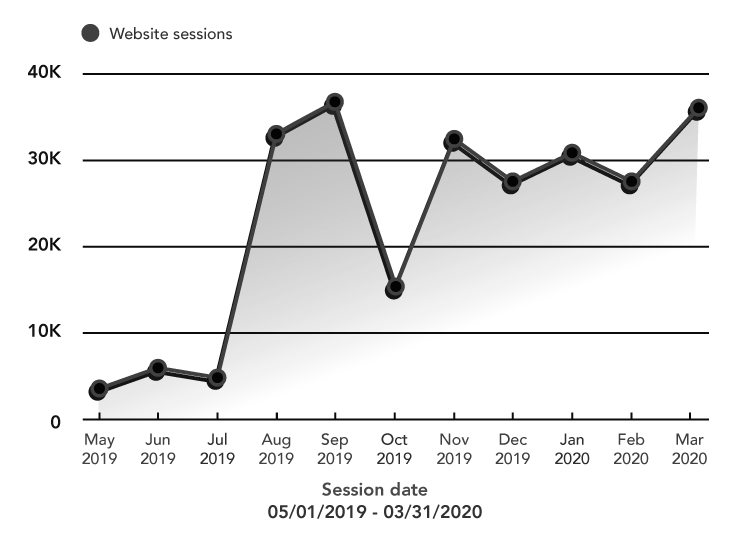 We managed to discern the right market, target them with the content they wanted, and transform them into an avid user base. Just as alwaysAI brings vision to objects that were previously blind, our campaign opened the eyes of developers around the world to the company's potential.
This is a classic example of having the right product at the right time. We simply made certain the right people knew what it could do for them.