A Business Management Solutions Company Reached out to us to Become Thought Leaders in their Industry and Drive More Inbound Leads

"…truly feels like an extension of our team. We all work together and collaborate so well that we're building off each other's ideas and creating even better content. We also have a fantastic cadence going throughout the process, from IO to finished content. The strategy and supporting content are absolutely on target for our clients and referral partners." – Lorin Gelfand, Dir. of Marketing and Communications at BBSI
Overview
BBSI was created to provide payroll administration, a great workers' comp program, staffing and recruiting, and a variety of HR and business consulting services. But their real passion is wanting to understand who you are, your challenges and how they can make things easier for you
While BBSI has a mighty marketing team, they sought out the help of a marketing agency that could feel like an extension of their team.
They wanted an agency that understood the company just as they do. Someone who understands that BBSI stands for community first, adding significant value and being an invaluable partner for business owners. BBSI wanted to:
Develop a strategy to drive more inbound leads through an online source.
Build a robust and engaged client-side email database.
Re-engage lists.
Showcase their stability and expertise in HR management and risk mitigation.
Increase the number of engaged, informed, and excited business owners directed to regional sales reps from BBSI corporate marketing workflows.
Challenge
Some of the challenges the marketing team ran into before working with us were that they needed a bigger team.
So after they decided on us, we were excited to be part of such a great group of marketers.
We dove in by learning about their brand and what it would take to help them achieve their goals, make their lives easier, and make BBSI a better company for those seeking business management services.
Solution
We made it our mission to understand BBSI and their employees, what their brand stands for, and to create content that blends seamlessly with their already established brand voice. We understood BBSI's need for better organic search, re-engaging old lists, and converting new leads.
We assisted by:
Developing a strategy to drive more inbound leads through online sources
Positioning BBSI as a thought leader in business management by creating blogs that answered questions for their consumers and utilizing keywords for rankings
Integrated HubSpot with Salesforce
Re-engaging lists of over 13k brokers.
Creating a regular newsletter to keep their database engaged and growing
51%
of Organic Search were New Visitors
60%
of New Customers from Organic Traffic
Results
After implementing our campaign, the team at BBSI achieved their goal of increasing website traffic and successfully making their platform known. Some of the results were:
Improved organic search
Increased website traffic
Establishment as an industry thought-leader
HubSpot & Salesforce Integration
Increased Lead Generation
Email campaign management & improvement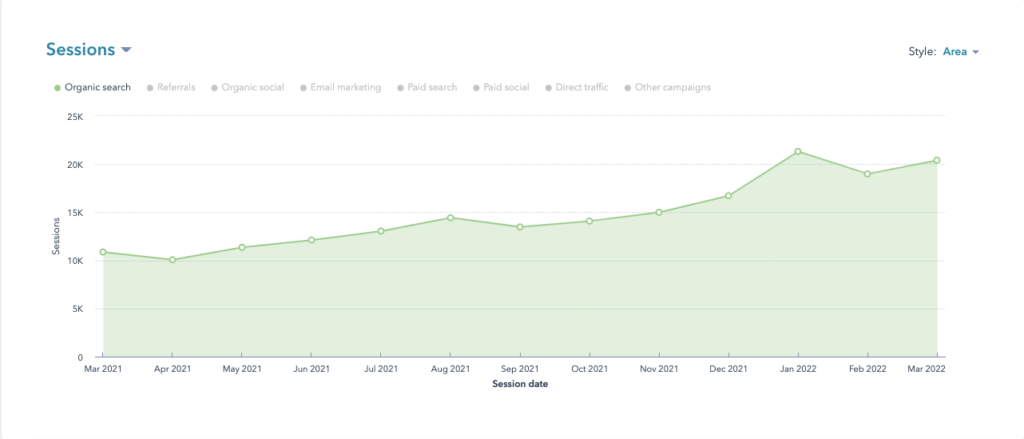 One BBSI team member noted just how helpful our content has been by saying that their organization and extended network of partners and clients are engaging with the content which is driving their business forward.
So whether people choose to use BBSI for their business management or not, value-adding content proved instrumental in meeting industry needs and helped BBSI put its services in the public eye.