B2B professional services create customized offerings for buyers and develop relationships with each business based on trust. While there are several ways to build this relationship, video marketing is quickly becoming one of the top strategies for marketers.
However, is video marketing relevant in B2B marketing, or is it a passing trend among consumers?
Explore the potential of B2B video marketing for professional services and five ways for using video in B2B marketing.
What Is a B2B Marketing Video?
A B2B marketing video promotes your business, introduces your services, and builds trust with your audience. You can share your marketing video on your website, social media, or a third-party website where users can view it. Then, they can use links within the video or in the description to return to your website and sign up for your services.
"A B2B marketing video promotes your business, introduces your services, and builds trust with your audience."
Is Video Marketing Necessary?
The demand for video content is growing as more buyers prefer the immersive experience that the media format offers rather than traditional channels for interacting with brands. Today, 86% of marketers use video as part of their strategy and plan to continue using it because of its high ROI.
To remain competitive in today's market, you must incorporate video into your strategy.
Is YouTube Good for B2B Marketing?
The second most visited website is YouTube, the online video hosting giant. It provides the tools and audience you need to launch your next video marketing campaign.
Before you start investing in YouTube, here are a few B2B video marketing statistics you should know about the platform:
30 million users log onto YouTube daily, and two billion monthly
Users watch over one billion hours of YouTube content daily
There are over 38 million channels on YouTube
90% of digital consumers also use YouTube
Among that large audience are your B2B buyers, looking for relevant content in their industry. You can position yourself as a leader by providing that content through the most popular video site.
Why Is Video Important in B2B Marketing?
Here are four benefits to including video as part of your B2B marketing efforts:
Increases Lead Engagement
Videos are one of the best content formats for encouraging engagement.
For example, videos on Facebook have the highest engagement rate, videos on Instagram receive twice the engagement of regular photo posts, and tweets with videos see ten times the engagement as those without.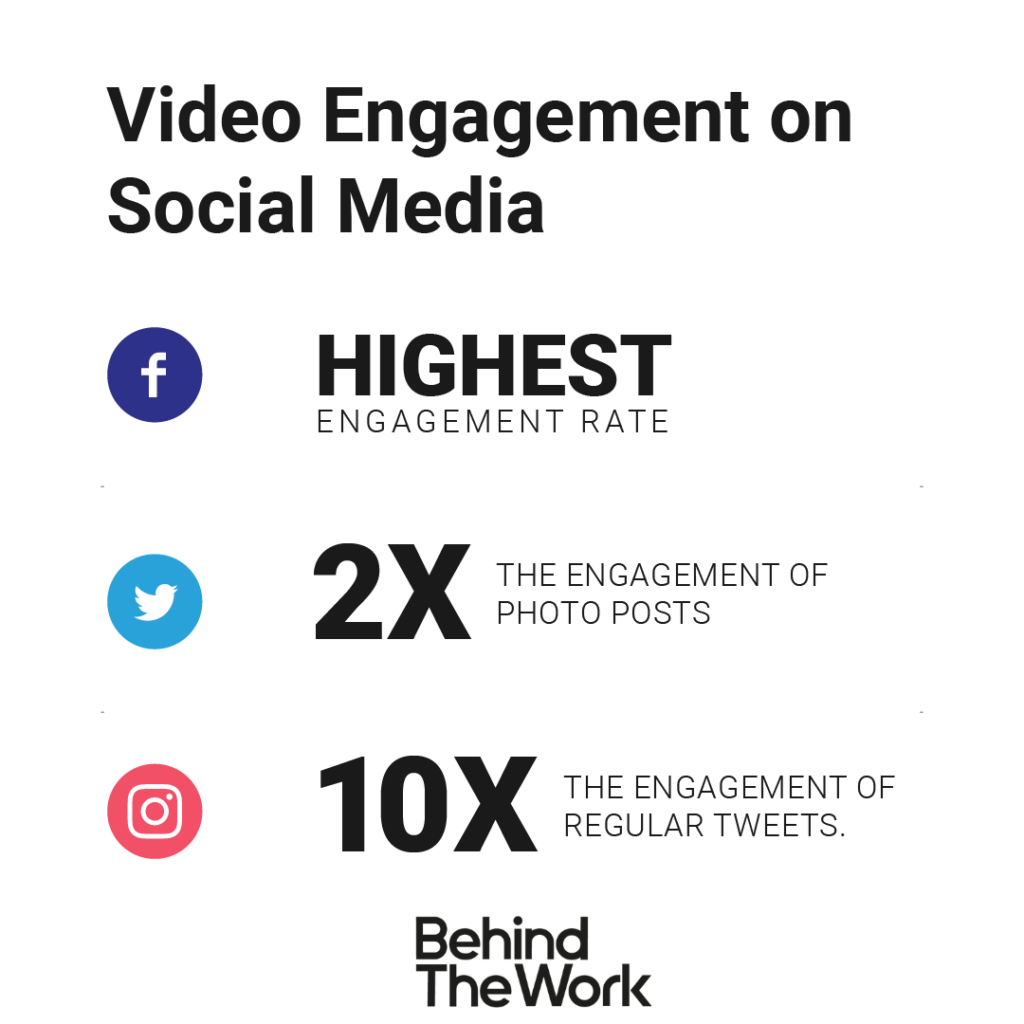 Engagement shows your viewers are interested in your message and trust your brand. It also lets you know whether most of your viewers are having a positive experience.
The ideal video length for engagement is within two minutes. After that, many viewers tend to leave. However, if viewers stay at least six minutes, they will most likely remain for the full video.
Addresses Different Learning Methods
Not everyone learns the same way. Roughly 65% of the population are visual learners. Visual learners retain information by viewing images, videos, and charts.
"Roughly 65% of the population are visual learners."
You are missing a large demographic if all your touchpoints are only text emails, blog posts, or phone calls. Bloggers publish over 6 million new posts daily, and the average office worker receives over 121 emails daily. You want your content to be memorable despite the oversaturation of digital media, which requires a mix of strategies and an incorporation of media.
Adding a visual touchpoint through a B2B marketing video ensures that most of your audience will retain the information and remember your professional services brand.
Improves Your Search Ranking
On average, 68% of online experiences start with a search engine. So before your buyers ever find your brand, they will be on a search engine like Google looking for solutions or learning information in their industry.
The more content you create, the greater your chance of ranking in those searches. In addition, over half of website traffic comes from organic searches, which means search engine optimization should be a high priority in your B2B marketing efforts to drive new traffic to your site.
Video in your blog posts and web pages improves your site's ranking in search engines. It also ensures the traffic you attract stays on those pages longer as it keeps them engaged.
In addition to supporting other content, video also ranks in a search engine by itself. YouTube videos appear in search queries based on the keywords you use in your closed captions, description, and title, as well as the video's engagement rate.
Works Well with Social Media
Since 59% of the world's population is on social media, spending an average of two and a half hours each day browsing content, it should be a core part of your marketing strategy. However, reaching your target audience isn't always easy as there are millions of users and competing content.
Video content helps cut through the noise by adding an engaging touchpoint to your social media channels. To ensure your video appears in front of the right audience, you can sponsor the content and use filters such as profession and location to target your B2B buyers.
The top social media marketing platform is LinkedIn. There are over 630 million professionals on this social channel. In addition, 80% of them are decision-makers in their businesses. If you are looking for the best channel to share your B2B video content, consider adding LinkedIn to the top of your list.
Builds Trust with B2B Buyers
Trust and authority are the cornerstones of a buyer relationship. They need to trust your brand and recommendations and see you as a leader in your industry before they are willing to invest in your services.
"Trust and authority are the cornerstones of a buyer relationship."
Video helps build that trust by developing a relationship through personal interactions on video. It gives you a fresh way to interact with your buyers and deliver messages. In addition, because they can see a face and someone's eyes as they speak, it also improves the experience of receiving information.
Studies revealed the power of eye contact in communication. Some of the benefits of showing your eyes when communicating include:
Sharing emotions without speaking
Appearing more honest
Increasing your persuasive power
Improving understanding
Building respect
How To Use Video in B2B Professional Service Marketing
Use these five strategies for incorporating video into your B2B professional service marketing:
Add Video to Your B2B Content Marketing Strategy
The upward trends in video marketing show that B2B video isn't going away anytime soon. Therefore, those in B2B professional services marketing should adopt video into their strategy to remain competitive and stand out in today's immersive multimedia society.
Contact us to learn about our video content solutions for B2B professional services.