Hiring is the process of selling your company to ideal candidates.
When these candidates come across your job posting, why should they want to learn more about your company, culture, and benefits? What should they know about your history, and why should they want to be part of your future?
You'll be hooking the right people if you can confidently answer these questions. Telling a visually interesting story is the best way to capture attention and allow you to make the case that you're the best company to work for.
That's why we recommend a recruitment video as part of any hiring campaign.
Many recruiters shy away from video because they think it will take too much technical knowledge or expensive equipment. However, the entire process can be completed with technology you already have access to.
From planning to production, we've collected eight easy steps you can follow to create your own engaging recruitment video.
FAQs About Producing a Recruitment Video
If you'd like to skip right to the details, scroll down to find the 8 steps.
How Do I Write a Recruitment Video for a Job?
To create effective company recruitment videos, start by laying out a basic story structure, including:
Your origins
The principles you believe in
Challenges on your road to growth
The role that your ideal candidate will play in the future of your business
From there, it's best to flesh out the story with human interest by letting your employees speak on behalf of your business.
What Should You Include in a Recruiting Video?
You'll want all the following elements in your recruitment video:
Interviews with current employees.
A cohesive, visually interesting narrative that tells your company's story.
The culture of your company and why it's a great place to work.
A relatable and optimistic plan for the future.
What Is a Recruitment Video?
Job recruitment videos, also known as video job postings, or work recruitment videos, are videos produced by companies looking to hire candidates for an open position.
How Long Should a Recruiting Video Be?
A recruitment video should be fairly short, about 2-3 minutes long. It should be long enough to communicate key details about your company's culture and vision without getting too bogged down in minutiae or technical details about the open position.
Without further ado, here are eight simple steps you can take to make your own recruiting video.
Phase One: Planning
As with anything worth doing, it's better to prepare in advance. Here are four steps you should follow during the planning phase of your recruitment video:
1. Determine Your Audience (Create Personas)
"In order to tell a great story that places your ideal candidate at the heart of the narrative, start with candidate personas."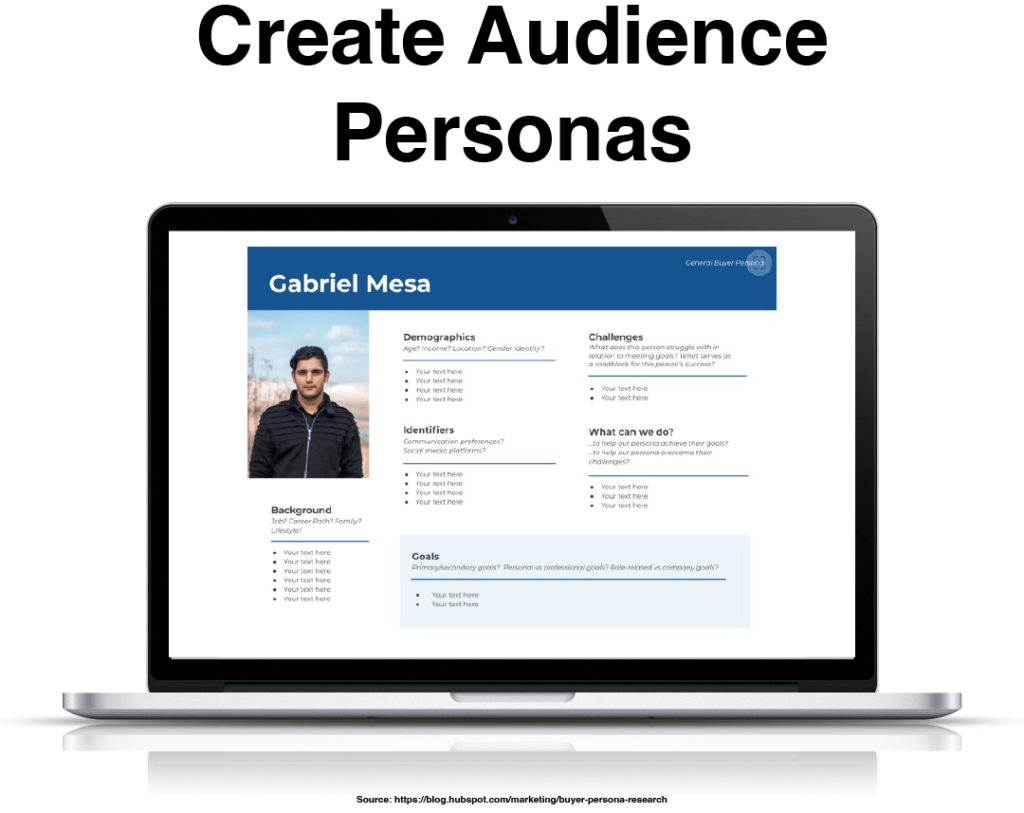 A persona is an idealized but fictional candidate representing the perfect employee you'd like to hire.
To design your ideal candidate, ask yourself questions like:
Who is my ideal employee on a personal level?
What are their career and life goals?
What do they need and want in a workplace?
How is your company better positioned to fulfill their desires compared to others?
2. Articulate Your Company's Vision and Culture
After coming up with the ideal candidate persona, you should consider designing the image of the company you'd like to project.
Important factors to consider when developing an identity for your business include your ideal company culture, steps to achieve it, and how your business operations reinforce and feed off that image.
Your culture should feel cohesive with your ideal candidate. They are designed to be a perfect match for one another, so if something about this step feels off, it's important to take a close look and smooth out any rough edges.
3. Come Up with a Rough Script
You should have a good idea of your final product before you begin video production.
Rather than trying to plan out every detail, focus on creating general guidelines that will shape the video you want.
Start by brainstorming simple ideas like music choices, office settings you can use, and visuals you want to include, such as office amenities or even a shot of your building and surrounding area.
Determine what you'd like to say in your recruitment video.
What's the story of your company? Where have you come from, and where are you going?
How does your ideal candidate fit into this narrative? They should have an active role in the future of the company.
Don't be afraid to talk about your challenges. Any good narrative involves a character overcoming problems. Your company has challenges and obstacles on the way to growth. Be open about those challenges and how you plan to overcome them with the right candidate.
Keep your video focused on the narrative. Don't be tempted to include too many details about the position, job responsibilities, or other technical information. This will sap momentum from the video and detract from its ultimate purpose: telling an engaging story.
"Your company has challenges and obstacles on the way to growth. Be open about those challenges and how you plan to overcome them with the right candidate."
4. Decide Whom to Put in Front of the Camera
No recruitment video can be complete without including the human element. Your current employees are the best resource you have when it comes to selling your company to potential candidates.
Ask for volunteers. This part is pretty important. You don't want anyone in the video who may feel uncomfortable in front of the camera.
When asking for volunteers, make sure you keep the tone light. Let your employees know it's a simple process that won't take long and will involve them speaking honestly about their experiences at the company.
If possible, get someone outside the organization to ask recruitment video questions. This will reduce the pressure on them to feel like they have to answer questions a certain way. Keep in mind that a low-pressure, open-ended interview is the best way to get your employees to relax and relate to the interviewer on a human level.
Don't forget to include some leaders in your video. Highly visible senior leadership gives the impression of a more dynamic organization that appeals to candidates.
"Don't forget to include some leaders in your video. Highly visible senior leadership gives the impression of a more dynamic organization that appeals to candidates."
Phase Two: Production
Now that you have a plan for your recruitment video, you'll need to turn your vision into reality. This is the production phase of how to make a recruitment video.
5. Get Comfortable with Your Equipment
Despite what you may believe, having professional equipment is optional when creating a recruitment video. You can make do with just a couple modern smartphones—one for video and one for audio.
The only way to master the art of creating videos is to practice often. If you're brand new to the process, here are a few tips for filming your recruitment video:
Avoid bad audio at all costs. Sound that is choppy, too loud, or incomprehensible will immediately degrade the quality of your final product and make it feel unprofessional. Record audio and video separately, then synchronize the two in the editing process.
Film in landscape, not portrait. Unless you create a recruitment video for social media where a portrait frame is appropriate, you want to avoid it. A wide-screen landscape picture is more visually appealing and will look better and more professional on bigger screens.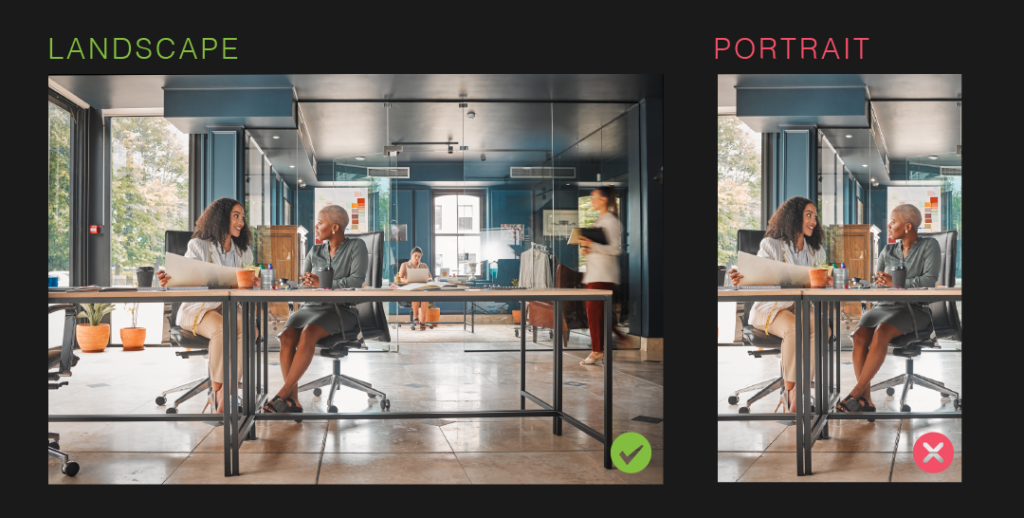 Keep the camera steady. Try resting your camera on a steady surface or invest in a tripod.
Get plenty of b–roll. In video production, a b-roll is the footage that is interspersed with your main shot. B-roll is important because it infuses the video with momentum and visual interest that a static, unedited shot can't achieve.
Stay organized. Label all your video and audio files consistently, making them easy to reference in the editing process.
6. Be a Hands-off Director
Employee recruitment videos should feel natural and free-flowing while still having defined structures.
Keep interviews open-ended. Let employees talk as much as possible. The more freedom they have to search their thoughts and feelings for truthful answers, the more quickly you'll get them to open up.
Be open to changes. You may learn that an idea or shot you wanted to include doesn't make sense anymore. Be open to changing directions early and often at the suggestion of your employees or collaborators.
Minimize cliches and buzzwords. Compared to other methods, the best aspect of a recruitment video is the ease with which you can generate a compelling and engaging narrative. The quickest way to detract from this narrative is to bring the candidate out of it with too many buzzwords or cliches that will make it difficult to focus on what's truly unique about your company.
7. Show, Don't Tell
Remember that video is a visual medium, first and foremost. Keep your job recruiting video interesting by showing rather than telling.
For example, imagine an employee you're interviewing bringing up how much they love the cafeteria. You should overlay that audio with a shot of the cafeteria, removing the need for the candidate to imagine what the cafeteria must look like and making it easy for them to imagine enjoying lunch there instead.
"Remember that video is a visual medium first and foremost. Keep your recruitment video interesting by showing rather than telling."
8. Include a Specific Call to Action
By specific, we mean direct instruction, so the candidate knows exactly where to go to complete the application process. The less friction here, the more candidates you'll have access to. Provide a link that is immediately accessible near the video, as well as instructions in the video for how to apply.
For Best Results, Go to the Experts
No matter your level of expertise or what technology you have access to, it's possible to make a narrative-driven, personalized recruitment video that highlights the culture of your business to potential candidates.
However, if you really want to maximize your results, it might be best to let a professional recruiting video maker handle it for you.
Behind The Work is an inbound agency with a San Diego Videography team specializing in full-service creative campaigns, including professional recruitment videos for companies. We pride ourselves on our ability to collaborate with our clients and seek to fit ourselves into your production or marketing process as a partner first and foremost.
We'll work alongside you to conceptualize and produce an effective recruitment video that tells the story of your business and relates it in a way that will maximize your recruiting efforts.
For an example of what we can do, take a look at what we created for the University of California. Of the candidates we helped them recruit, 100% were high-quality and still with them two years after the campaign.
To learn more about the services Behind the Work offers and how we can begin creating the perfect recruitment video for you, contact us to talk with one of our team members.